Sun
Mon
Tues
Wed
Thu
Fri
Sat
1
2
3
4
5
6
7
8
9
10
11
12
13

January 13th, 2015

Sport 'N Play Before & After School Program

Before School: 7:00AM - 8:45AM After School: 4:00PM - 5:45PM Contact - Janetta Boomer or 613 296 3875 You can also visit our website at...

WC Fibre Guild

Second Tuesday of Each Month, September 2014 - May 2015 (Excluding January 2015) 12:30pm - 4:00pm Hall Only

14
15
16
17
18
19
20
21
22
23
24
25
26
27
28
29
30
31
Calendar Items
Katie Bears Fundraiser - CANCELLED
Feb 1st, 2015
Do to unforeseen circumstances this event has been CANCELLED!! February 1st, 2015. 10am - 12pm Lori Kemp-Mcgrath
WC Fibre Guild 2
Apr 14th, 2015
Tues April 14th 10am - 3:30pm Hall Only. Contact Pat Gerrard patricia.gerrard@sympatico.ca
Canada Day 2015
Jul 1st, 2015
2015 Canada Day Festivities Hall/Kitchen/Baseball Diamond/Soccer Field/Tents/Tables/Chairs July 1st, 2015 12:00pm - 10:00pm
Welcome to the Dunrobin Community Association - DCA
Your Community Resource
The Dunrobin Community Association's organizes, promotes and engages in recreational, social, cultural, benevolent, sports and educational activities in the Dunrobin area.
ICE STATUS IS

BLACK

- please stay off the ice today because of the much needed snow!!!!
Should you have an questions in regards to the DCA please send an email to here
If you wish to receive our DCA email newsletter please Subscribe Now.
KatieBears Skating Party Fundraiser - For more detail please email Lori McGrath or KatieBears
Do to unforeseen circumstances this event has been CANCELLED!!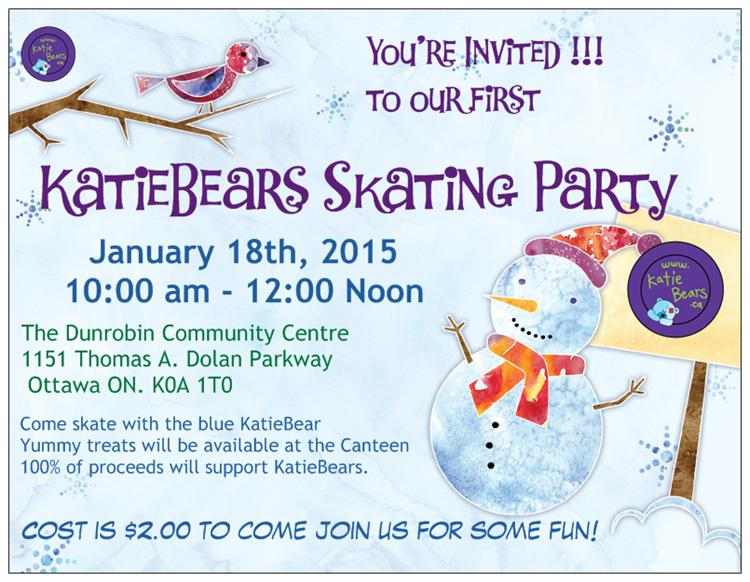 The above event has been moved to FEB 1ST.. .hope to see you all there!!!!